HLB International at the 2017 Harvard African Development Conference
3 May 2017
BOSTON – "This conference was the highlight of my time at Harvard. Bringing together 50+ speakers and several hundred attendees took more than 6 months of intensive planning with a 10+ team of exceptional volunteers mobilized behind a common vision of success. Getting to interact directly with heads of states and Forbes list billionaires is an extremely rewarding experience. But more than anything, my pride resides in the fact that I contributed to raise the profile of HLB International in a community where the best leaders in world are nurtured, be it for business, not-for-profit or public sector." Kader Kaneye, CEO HLB KMC West Africa, Organizer and Co-Chair of the Harvard ADC
The African Development Conference at Harvard is an annual, campus-wide and pan-African forum for discourse. It is the largest African Development Conference in North America and is a collaborative event organized by students at the Harvard Law School, Harvard Graduate School of Education, Harvard Kennedy School of Government, Harvard Graduate School of Design, Harvard School of Public Health and Harvard College.
This year, HLB International was privileged to be a Gold Sponsor for the event, with the participation of the International Office, KMC (Francophone Africa) and HLB Reliance (Zambia). The New York and Boston offices of Withum attended the event with great satisfaction.
The African Development Conference is a forum that brings together over 500 participants, including students, alumni, scholars, business professionals, policy practitioners, government officials and leaders from around the world. The goal of the Conference is to offer a platform for the advancement of intellectual and practical debate on Africa's evolving network of development partners. The Conference presents an opportunity for discussion around major pillars of growth including law, governance, technology, health, education, design and media.
A few of the speakers the conference has attracted to its previous editions are listed below:
* His Excellency President Issoufou Mahamadou of the Republic of Niger
* His Excellency President Macky Sall of the Republic of Senegal
* His Excellency Raila Odinga – Prime Minister of Kenya
This year, we the conference welcomed the following keynotes speakers who shared widely acclaimed insights on the future of Africa. 
* Madame Folorunsho Alakija, business magnate in Nigeria
* Advocate Thulisile Nomkhosi Madonsela, former Public Protector of South Africa
* HE Former President of Ghana, John Dramani Mahama
* Human rights lawyer Beatrice Mtetwa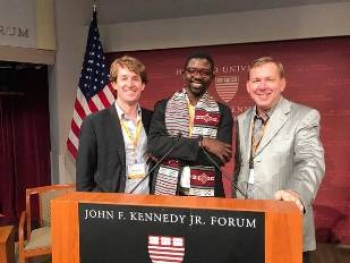 Africa: Imagining New Frontiers of Collaboration revisited the enduring, yet dynamic and elusive concept of "Pan-Africanism" as it took
shape in the twenty- first century and invited conversations on the increasing importance of cross-border and international cooperation and partnership for the continent. The conference explored creative, collaborative approaches to African challenges and opportunities. Those included governance and human rights, education, infrastructure, public health, gender and income inequality, Africa's economies, and urban development. 
The conference successfully moved beyond raising awareness about the challenges facing Africa by highlighting innovative thinking and promoting those who are working to effect real change in their country or throughout the continent. The conference attendees left with a sense of excitement and purpose regarding the continent and its role in the world. More importantly, in the spirit of this year's theme, conference attendees discovered new opportunities for collaboration and were inspired to take part in Africa's future. 
Michael Gale, Head of Business Development at Withum, commented "After being invited to the ADC, I realized I knew very little about Africa and so I was very eager to learn more. I now know that there are 54 countries, multiple 20+ year presidencies, many natural resources, billions of innovative people, great beauty and that there are only four water-cannons in Zimbabwe. I, like many people, am interested in a world that is safe, innovative and inclusive, and holds great opportunities for our children. I left the conference with much hope for the innovative and positive change for Africa and saw many people in the room that I believe will be the cause for that change."
About HLB
HLB International is a global network of independent professional accounting firms and business advisers. Formed in 1969, we service clients through our member firms in 159 countries, with 32,839 partners and staff in 968 offices worldwide.
Learn more about us and tell us what matters to you by visiting www.hlb.global
HLB refers to the HLB International network and/or one or more of its member firms, each of which is a separate legal entity. Please see www.hlb.global/legal for further details.
© 2021 HLB International limited. All rights reserved.