Hazlewoods recruit record number of new trainees
4 October 2016
GLOUCESTERSHIRE – Hazlewoods, the Gloucestershire-based accountants and business advisers, have taken on a record number of new trainees this year.
The award-winning firm has enrolled a total of 28 school and college leavers and university graduates to train in the profession – the largest single intake of new trainees in Hazlewoods history.
The A-level student leavers are embarking on a two year course for the AAT (Association of Accounting Technicians) qualification whilst the graduates will train for three years to gain the ACA qualification through the Institute of Chartered Accountants in England and Wales (ICAEW).
Hazlewoods Human Resources Assistant, Tracey Morris, said: "We are really pleased to get so many trainees this year. They have come from all over the country.
"Trainees are very important to Hazlewoods and the continued success of the firm. Indeed, 12 of the current 21 partners originally trained with Hazlewoods so the opportunities to progress are excellent."
Hazlewoods are already inviting applications for trainees to start with the firm next year. The trainees are expected to work hard but are supported every step of the way by Hazlewoods.
Earlier this year Hazlewoods was named as one of the top employers for school and college leavers in the UK for the second year running.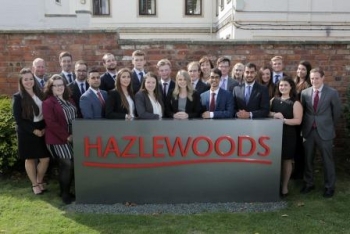 The firm was ranked 34th in the fourth national Top Employers for School and College Leavers awards organised by AllAboutSchoolLeavers.co.uk. The awards recognise companies that are both raising awareness of and delivering apprenticeships,school leaver programmes and sponsored degrees. The winners were decided on the basis of anonymous satisfaction surveys filled in by trainees according to skills development, careers progress and salary.
Hazlewoods were placed above some of the biggest national players in this ranking, including BP, GSK, Boots, Jaguar Land Rover and Harrods.
About HLB
HLB International is a global network of independent professional accounting firms and business advisers. Formed in 1969, we service clients through our member firms in 159 countries, with 32,839 partners and staff in 968 offices worldwide.
Learn more about us and tell us what matters to you by visiting www.hlb.global
HLB refers to the HLB International network and/or one or more of its member firms, each of which is a separate legal entity. Please see www.hlb.global/legal for further details.
© 2021 HLB International limited. All rights reserved.