Energy Consulting, HLB International and ACCA discussed global economic developments and opportunities for Russian business abroad
9 October 2017
MOSCOW – More than 170 Russian top managers gained first-hand information on the US new tax policy introduced by President Trump; on how to work with China; life after Brexit and interactions with Europe during the international seminar of Energy Consulting, one of HLB's member firms in Russia, and ACCA.   
The international seminar "Global Economic Trends and International Business of Russian Companies: USA, Europe and China", organized by Energy Consulting and ACCA, a global body for professional accountants, took place on 26 September in Moscow with more than 170 leaders and CFO's of Russian companies in attendance that either do international business or actively work with foreign partners. 
WithumSmith+Brown (USA) Partner Dave Springsteen spoke about "trumponomics" and President Trump's proposed tax policy. Menzies (UK) Partner Caroline Milton discussed the UK's potential trade opportunities after leaving the European Union. Association of European Businesses CEO Frank Schauff stopped on the peculiarities of European companies work in Russia against a background of the drop of foreign direct investments.  
In his turn, Assistant to the Chief Representative of China Council for the Promotion of International Trade Representative Office (CCPIT) in Russia Qiu Tianchi and Coco Liu, Chief Regional Officer at HLB International, provided information on what should be known before meeting Chinese investors and where to look for Russian business advantages within the framework of the "One Belt, One Road" initiative.
Welcome words were said by Energy Consulting Chairman Mikhail Ponomarev, HLB International Chairman David Stene, HLB International CEO Marco Donzelli and the Head of ACCA Russia Vera Starodubtseva. HLB International partners from Holland, Germany, France, Italy and Cyprus took part as guests. 
There were many questions to the Chinese representatives, but also questions on Brexit and how European companies are weathering storms in Russia. Moderator of the seminar and the subsequent discussion was Energy Consulting Partner and HLB Eurasia Leader Gerard Uijtendaal.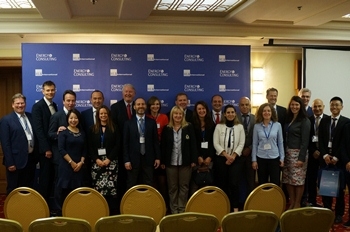 Victoria Salamatina, Energy Consulting CEO stated: "We are happy that our topic of the global economic developments aroused great interest of the professional community, and our international seminar not only allowed delegates to receive valuable information directly from foreign experts, but became a basis for exchanging opinions. We are going to continue achieving a high level of our conferences."  
Vera Starodubtseva: FCCA, Head of АССА Russia noted: "ACCA is the global body for professional accountants. Today at the conference we can see very many ACCA members. We are happy that together with our partners we can provide an access to the international best practices. To understand the work, the prospects of the profession development, it is important to see the picture as a whole, to have examples from both Russian realities and global cases."
Marco Donzelli, CEO of HLB International commented: "I was personally very honoured to open the seminar organised by Energy Consulting with the participation of ACCA. The event saw attendees from all sorts of companies, backgrounds and nationalities in line with the spirit of diversity we foster every day at HLB. The level of the discussion was very high, and similarly high was the interaction generated by many questions from public. Russia has a primary role within the HLB network."
About HLB
HLB International is a global network of independent professional accounting firms and business advisers. Formed in 1969, we service clients through our member firms in 159 countries, with 32,839 partners and staff in 968 offices worldwide.
Learn more about us and tell us what matters to you by visiting www.hlb.global
HLB refers to the HLB International network and/or one or more of its member firms, each of which is a separate legal entity. Please see www.hlb.global/legal for further details.
© 2021 HLB International limited. All rights reserved.