Ditta Hlaváčková from HLB PROXY selected for the Dream Tax Advisers Office
2 March 2017
PRAGUE – HLB PROXY tax partner Ditta Hlaváčková succeeded in the prestigious Tax Advisor of the Year awards in Prague on 18 February.
Ditta was awarded the SILVER position of Brightest Tax Star (Individual Income Tax) in the 2016 Tax Advisor & Tax Company of the Year Awards and has been selected as one of the Czech Republic experts 'Dream Tax advisers office 2016' – in which there are 7 experts with the greatest number of votes in the categories of Brightest Tax Star and Brightest Rising Tax Star.
The prestigious competition of tax specialists in the state and commercial spheres features a total of eight categories – Most Desirable Tax Employer, Most Helpful Revenue Authority, Best Tax Teachers, Brightest Tax Stars in the individual specialisations, Brightest Rising Tax Stars, Dream Tax Office, Tax Personality of the Year and Tax Lemon. The winners are chosen through voting over the Internet by the lay and professional public, who sent in more than 6500 votes for the 80 nominated tax specialists.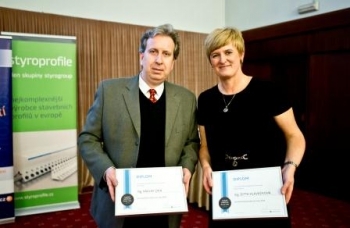 Ditta commented: "To be a part of team is always the best award, because you know there are people you can share your knowledge with. To be a member of HLB family is for the whole HLB PROXY company the possibility to share not only knowledge but also concerns. I am personally pleased we could again promote HLB in the Czech Republic."
About HLB
HLB International is a global network of independent professional accounting firms and business advisers. Formed in 1969, we service clients through our member firms in 159 countries, with 32,839 partners and staff in 968 offices worldwide.
Learn more about us and tell us what matters to you by visiting www.hlb.global
HLB refers to the HLB International network and/or one or more of its member firms, each of which is a separate legal entity. Please see www.hlb.global/legal for further details.
© 2021 HLB International limited. All rights reserved.